Property News
Klimt at Cairnhill – A freehold development in Orchard. For the period in review, 29 units were sold at an average price of S$3,869 per square foot (psf) and at an average quantum of S$8.8 million. A duplex penthouse is being sold for S$27.5 million, the price works out to S$4,645 psf for the 5,920 sqft unit.
Cape Royale – A 99-year leasehold development on Sentosa Island. For the period in review, 17 units were sold at an average price of S$2,227 psf and an average quantum of S$5.9 million.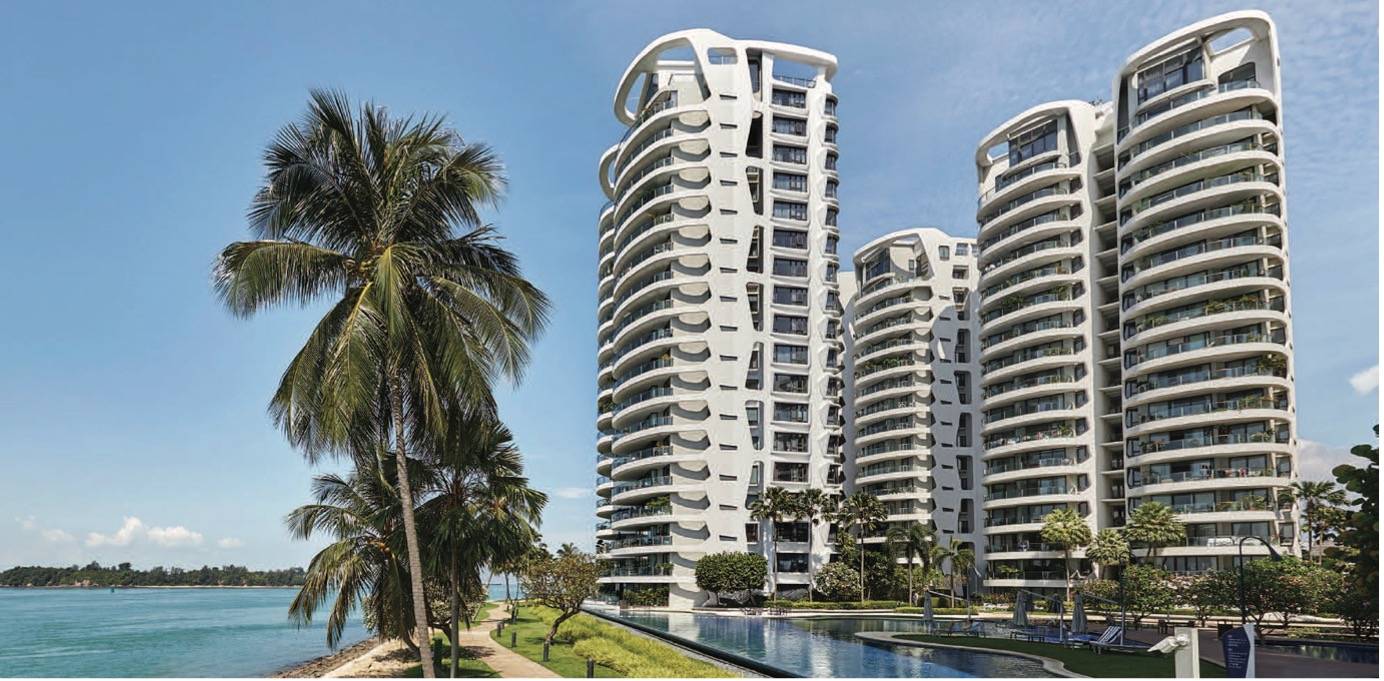 Image source: Cape Royal
The highest price recorded for large apartments sold in the period December 2022–March 2023 was for a fourth-floor unit at Les Maisons Nassim. This freehold 6-bedroom apartment was sold for S$5,727 psf with a quantum of S$36 million.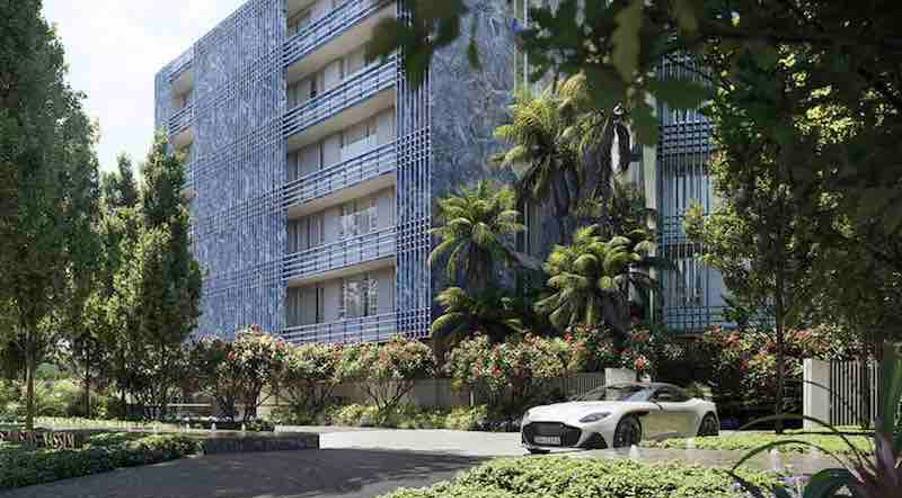 Image source: Les Maisons Nassim (Artist Impression)
The transaction market for super-luxury non-landed residential properties (those sold for S$3,000 psf and above) continues to heat up. For the period of January to March 2023, preliminary estimates show that there were 254 such transactions in the new sale, sub-sale, and resale markets. In contrast, for the period January to March 2022, there were only 118 transactions that exceeded S$3,000 psf.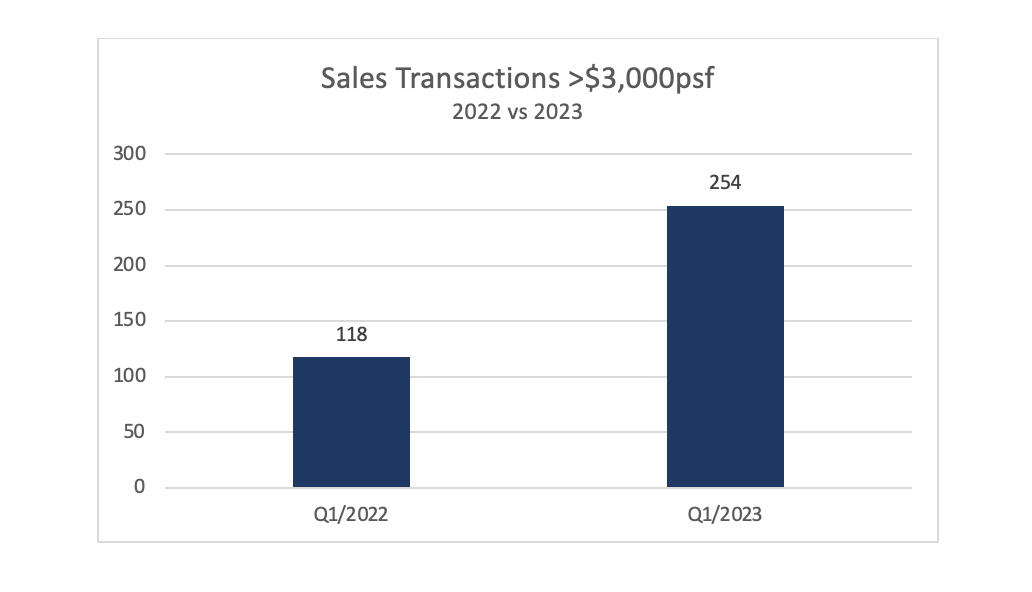 The highest price on a S$psf basis for January to March this year was S$5,727 psf, while for the first quarter of 2022, the highest was S$5,153 psf. However, in terms of transactional value, for the same period comparison, this year's highest was S$36 million, versus S$59.8 million last year. The latter was a 12,066-square-foot unit at Les Maison Nassim.

Read more: Q2/2023 Rental and New Sales Market Performance
The 115% increase in the number of super luxury non-landed private residential transactions this year contrasts sharply with the 27.9% drop in the number of units sold islandwide. For the period under review, URA Realis recorded 3,381 units changing hands throughout Singapore this year versus 4,691 units in 2022.
Top 10 Transactions by Highest Price psf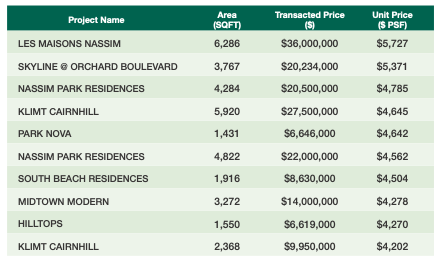 The super-luxury condominium segment is expected to continue to outshine the rest of the market this year. This would happen when new projects are launched. One of them is Skywaters Residences at 8 Shenton Way. This and other super luxury launches are expected to further fuel the top end of the private non-landed residential market. It would not be a surprise that, come the end of 2023, we will get to see more units changing hands at over S$6,000 psf. In 2022, URA Realis records only showed 1 such match per unit at Les Maison Nassim.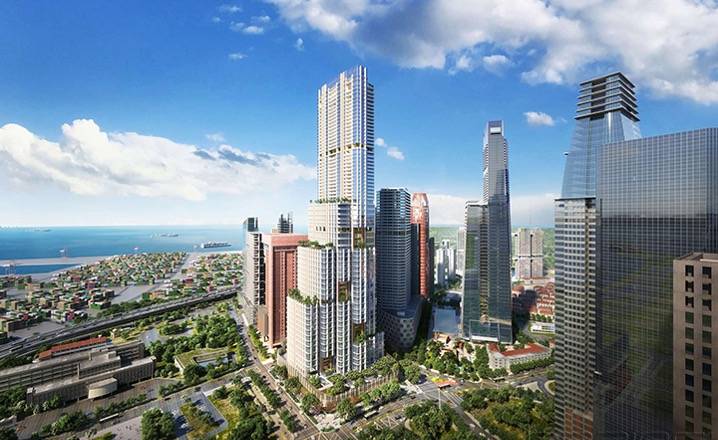 Skywaters Residences at 8 Shenton Way (Artist Impression) Image source: SOM/Bezier
Explore more of the available
Apartments:
Top stories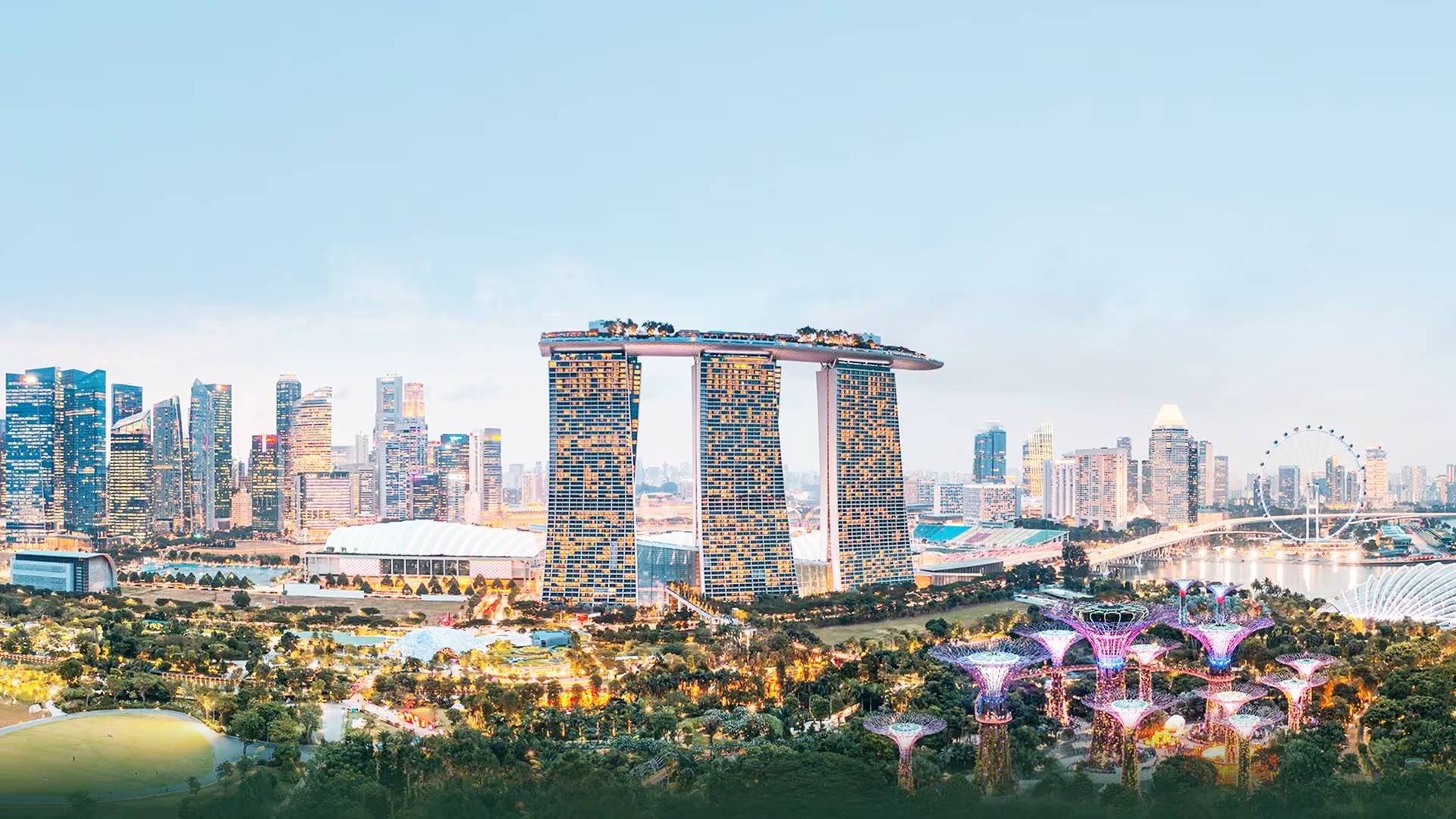 Relocating to Singapore - Foreigners' Guide to Home Renting
Navigate the intricacies of landed property acquisitions in Singapore with our comprehensive guide for foreigners and PRs exploring real estate opportunities.