Property News
Envisioned as a vibrant, mixed-use district that combines residential, commercial, and recreational elements, Jurong Lake District (JLD) will be the largest business district outside of the central area. Long-term urban planning efforts are in the pipeline to transform the western part of Singapore into a vibrant and sustainable urban hub.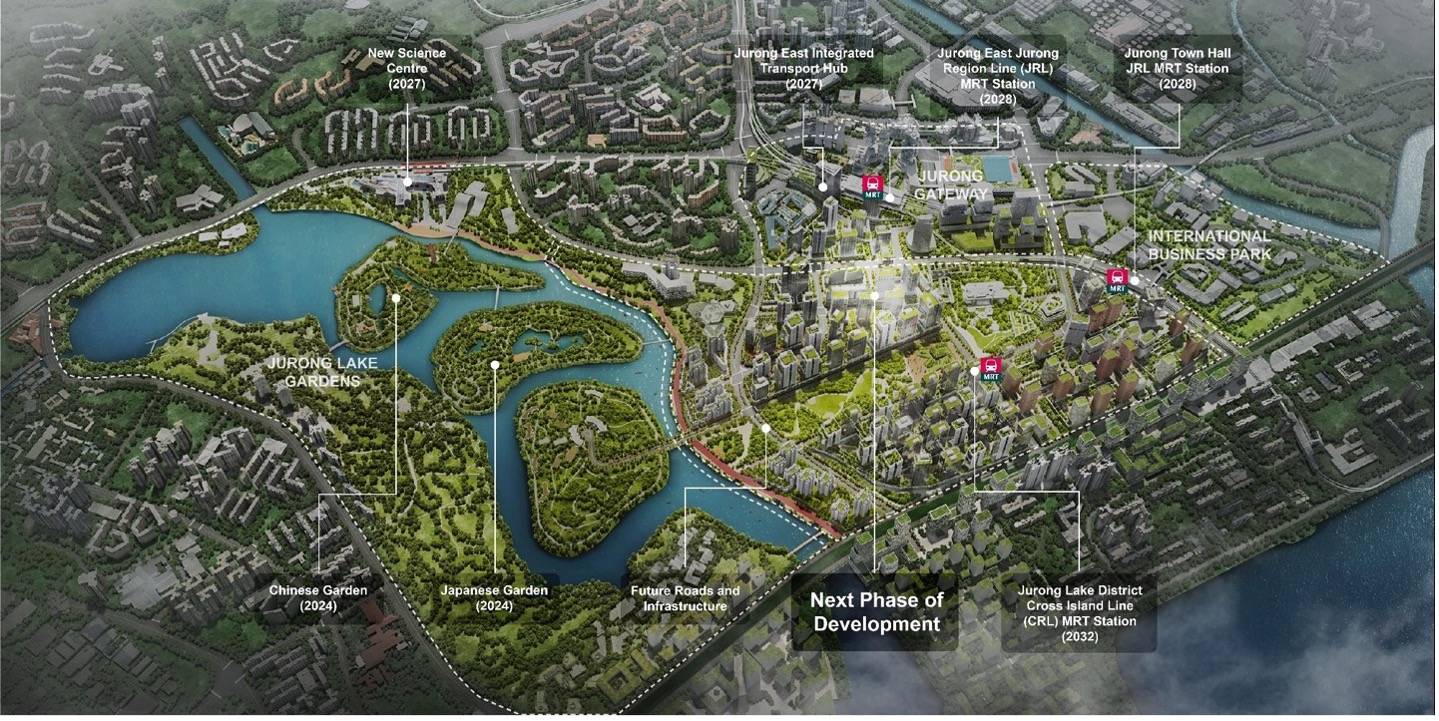 Image source: jld.gov.sg
About Jurong Lake District (JLD)
Poised to be the largest business district outside the CBD in the future.
Spanning 410 ha, JLD comprises four precincts and a master developer plan site that comprises three plots of land located across Lakeside East and Jurong Gateway Precincts, the well-developed commercial node around Jurong East MRT station.
Lakeside East is envisaged as a mixed-use office and retail precinct with a live-in population. It focuses on business, compared to the leisure-oriented Lakeside West.
Located between Jurong East and the future Jurong Lake District (Cross Island Line) MRT stations, the latter may be linked to Jurong Town Hall MRT station (Jurong Region Line) to form a potential interchange station.
Adjacent to International Business Park (IBP), which will be rejuvenated with more mixed-uses in the future.
Connectivity to other major business and academic clusters (30 mins), as well as a 1-hour MRT journey to Changi Airport.
Jurong Lake District will have excellent connectivity via two new train lines, the Jurong Region Line (JRL) and Cross Island Line (CIL), which will be fully completed by 2029 and in the 2030s, respectively. Together with the existing East-West Line and North-South Line, these new lines will connect people to major business centres and education hubs in the West and Central regions within 30 minutes.
The JRL will link the district to academic expertise, R&D, and skilled talent at Nanyang Technological University, Jurong Innovation District, and Jurong Industrial Estate.
The CIL will serve existing and future developments in the eastern, western, and north-eastern corridors and connect Jurong Lake District to other major hubs such as one-north, Punggol Digital District and Changi Airport.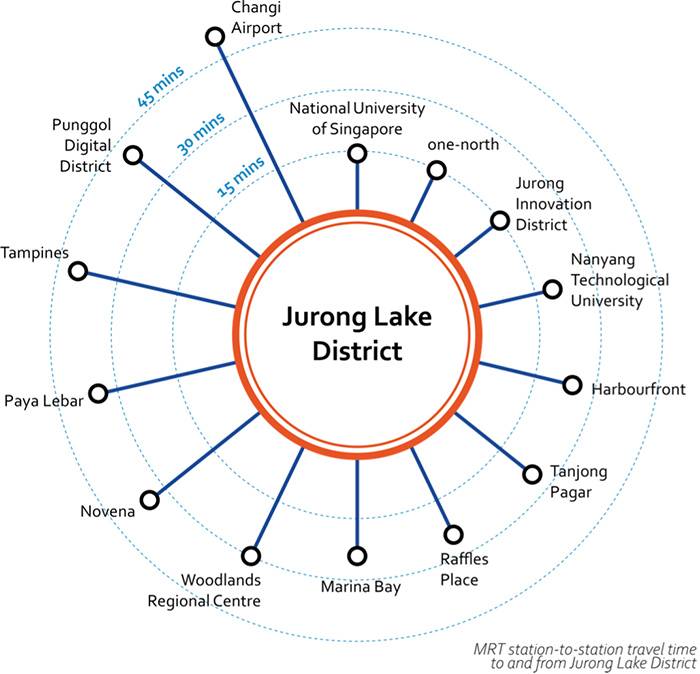 Image source: jld.gov.sg
Jurong Lake Gardens, a new leisure and recreational cluster
Image source: URA, STB and Nparks
Touted as the "3rd National Gardens of Singapore", Jurong Lake Gardens will feature new and enhanced leisure amenities such as large event spaces, F&B outlets, recreational areas, dedicated spaces for biodiversity, and improved connectivity and accessibility (e.g., the People's Mover System) within the Gardens.
World-class lifestyle destination (New Science Centre and Tourism Development)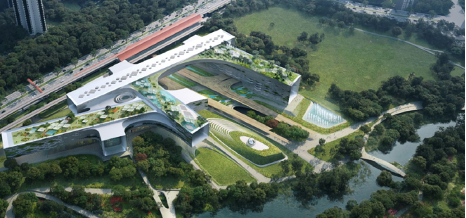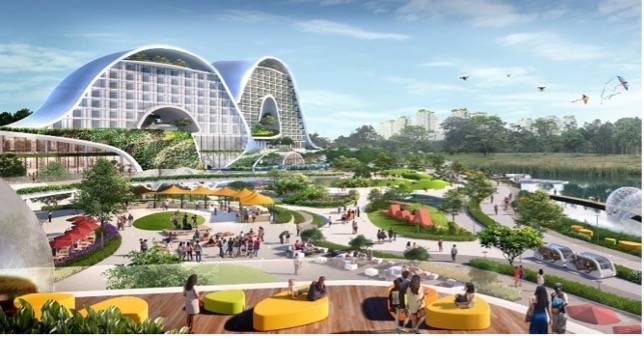 Image source: STB
Two key leisure, tourism, and entertainment projects will make their way into Jurong Lake District, notably Lakeside West, in the coming years. Firstly, the new Science Centre is under development and is expected to be completed in the mid-2020s. It will feature immersive learning experiences that incorporate new technologies and provide applied learning experiences for visitors. It is likely to generate more than 1 million visitors per year. Next, a new integrated Tourism Development will also be developed next to the new Science Centre (likely in the late 2020s or early 2030s).
JLD is positioned as a major (cross-border) transport hub, a hub for infrastructure development and a world-class sustainability district*
* Goal to achieve net-zero emissions for new developments around 2045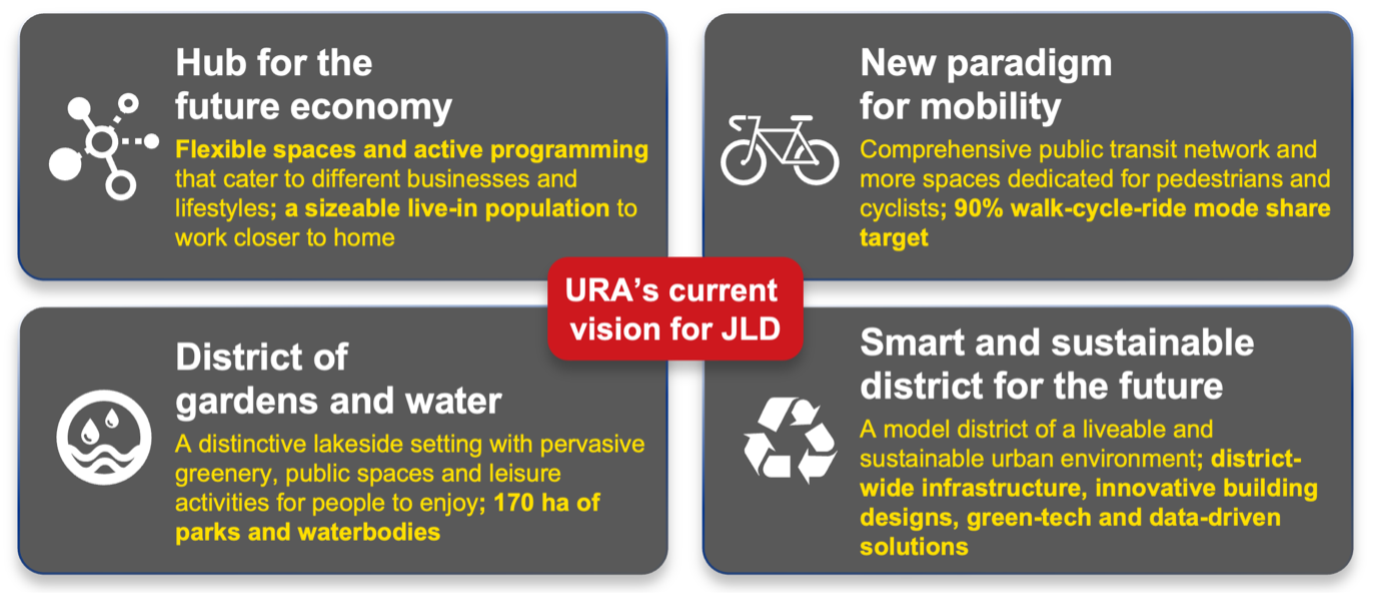 Source: STB
Good accessibility and connectivity out of JLD, especially to CBD (Raffles Place),
Some prime business developments
Strong focus on mixed-use developments (mixed-use business precinct)
Introduction of more diverse development types, e.g., tourism, recreation & leisure
Lakeside Apartments (Jurong West)
Considering the state of the transaction market for large luxury apartments, Lakeside Apartments at Yuan Ching Road were successfully sold en bloc for $273.89 million in May 2022 to Wing Tai Holdings. The developer plans to turn the 134,177 sq ft site into a more than 300-unit residential development with views of Jurong Lake Gardens, the Chinese Garden, and the Japanese Garden. Including betterment charges, the land acquisition cost is estimated to be close to S$1,200 psf ppr.
Park View Mansions (Jurong West)
Park View Mansions was sold for $260 million in a collective sale to a joint venture comprising CEL Development, Sing-Haiyi Pearl, and TK 189 Development, who plan to redevelop the site into a residential development with up to 440 units. The price translates to a land rate of $1,023 psf ppr, inclusive of a betterment charge payable to maximise the site's development plot ratio and lease top-up.
JLD Master Developer Government Land Site
The Government is releasing the 6.5-hectare White site with a potential yield of at least 146,000 sqm of office space, about 1,700 dwelling units, and 73,000 sqm of gross floor area for complementary uses such as shops, restaurants, entertainment, hotels, community uses, or more offices. The proposed integrated development will be progressively completed over the next 10 to 15 years.


Market Outlook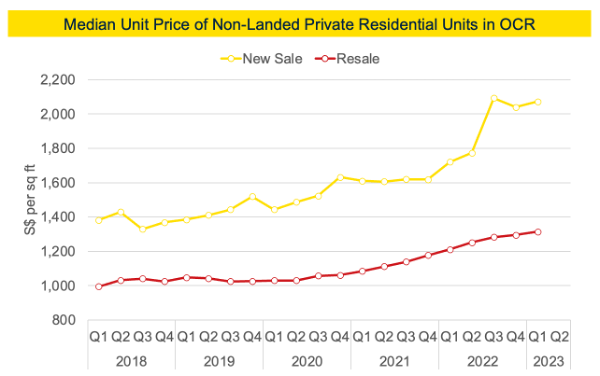 New sale prices in OCR are expected to continue rising because:
Demand for private non-landed residential in the OCR is expected to remain solid in the mid-term, underpinned by rising household income and wealth, upgrader demand, and greater lifestyle aspirations.
While there are a host of underlying risk factors that may derail the residential market (especially in the form of policy disruptions), there is longer-term confidence for underserved clusters such as JLD, which has seen very limited new sale launches and is poised to see an uplift in its catchment potential.
Moving forward, new sale prices in the OCR are likely to continue rising due to higher land and construction costs. Resale prices are likely to follow new sale prices.
Prices for OCR in 2023 are expected to rise 7% Y-o-Y.


Non-Landed Resale Residential Prices and Rents in District 21, D22 and D23
Resale prices of non-landed properties in D23 are among the more affordable on the island. Partly because some of these projects were built in the 90s and have 99-year leases. If we sample a small number of projects from the 90s era in D23, we find that their prices range from slightly below S$1,000 psf to about S$1,200 psf. From an affordability and value-for-money point of view, they would fit the bill for someone looking to invest because the gross rental yield ranges from 3.8% to just north of 4%.
For D21, prices are generally higher because certain parts of the district are adjacent to prime D10. (Some are located along Bukit Timah Road.) Many of the non-landed properties are also freehold or 999-year in land tenure, with the shortest land lease project being The Hillford (a project on a 60-year land lease). For the 999-year and freehold condominiums in this district, prices often range from S$1,600 psf to just slightly above S$2,000 psf. For properties of this tenure, the gross rental yield ranges from about 2% to just below 3.5%. However, for leasehold, non-landed properties in this district, the yield is often higher, ranging from 3.5% to slightly below 4%.
For D22, transacted prices are distributed over a wider range depending on the lease tenure and when that began for 99-year condominiums. They can start from a low of just over S$1,000 psf to over S$1,900 psf. The gross yield in the district is generally higher than the islandwide average of 3.6% (average 12-month yield from July 2022 to June 2023), coming in from the high 3% to below the mid-4% range.
Resale Landed Residential Prices and Rents in Districts 21, 22 and 23
A small sample of transactions taken from Q2/2023 for freehold landed properties in districts 21 and 23 shows that prices are often in the range north of S$3.8 million. The lower band of prices would correspond to terraces or semi-detaches that need relatively extensive refurbishment works, while the upper band, those with a quantum over S$12 million, would be for detached homes in varying physical conditions. District 21 would generally command better prices as it is classified under the mid-tier segment of the market (the rest of the Central Region).
The question then is, for those who want to own a private landed property for functional use but have a budget constraint, can you still buy such a property in good condition for less than S$4 million?
The answer is yes, but the tenure will be those that are on 99-year leases. These properties can fulfil the functional role of the buyer, who needs them to accommodate a large family or who intends to use them to host guests.
The attractiveness of such properties is as follows:
Housing a large family, like a multi-generational one.
Entertaining guests of entrepreneurs. The garden would offer a good venue for BBQ activities. For those with land large enough to build a pool, it would add further entertainment value.
Freeing up capital for more productive uses in one's business (since the value of the property is much lower than those with a 999-year or Freehold basis). In other words, the return on and equity on the money saved by buying a leasehold over a 999-year/freehold asset is much higher from one's business line than from the home.
The value of 99-year landed properties in District 21 and District 23 varies from S$2.5 million to about S$4+ million, depending on the condition and size of the unit (considering both built-in and land area). For those who wish to own a landed home, taking into consideration the 3 points above, 99-year landed leaseholds would fulfil those needs.
For more information or to know more about our services, click below button
Top stories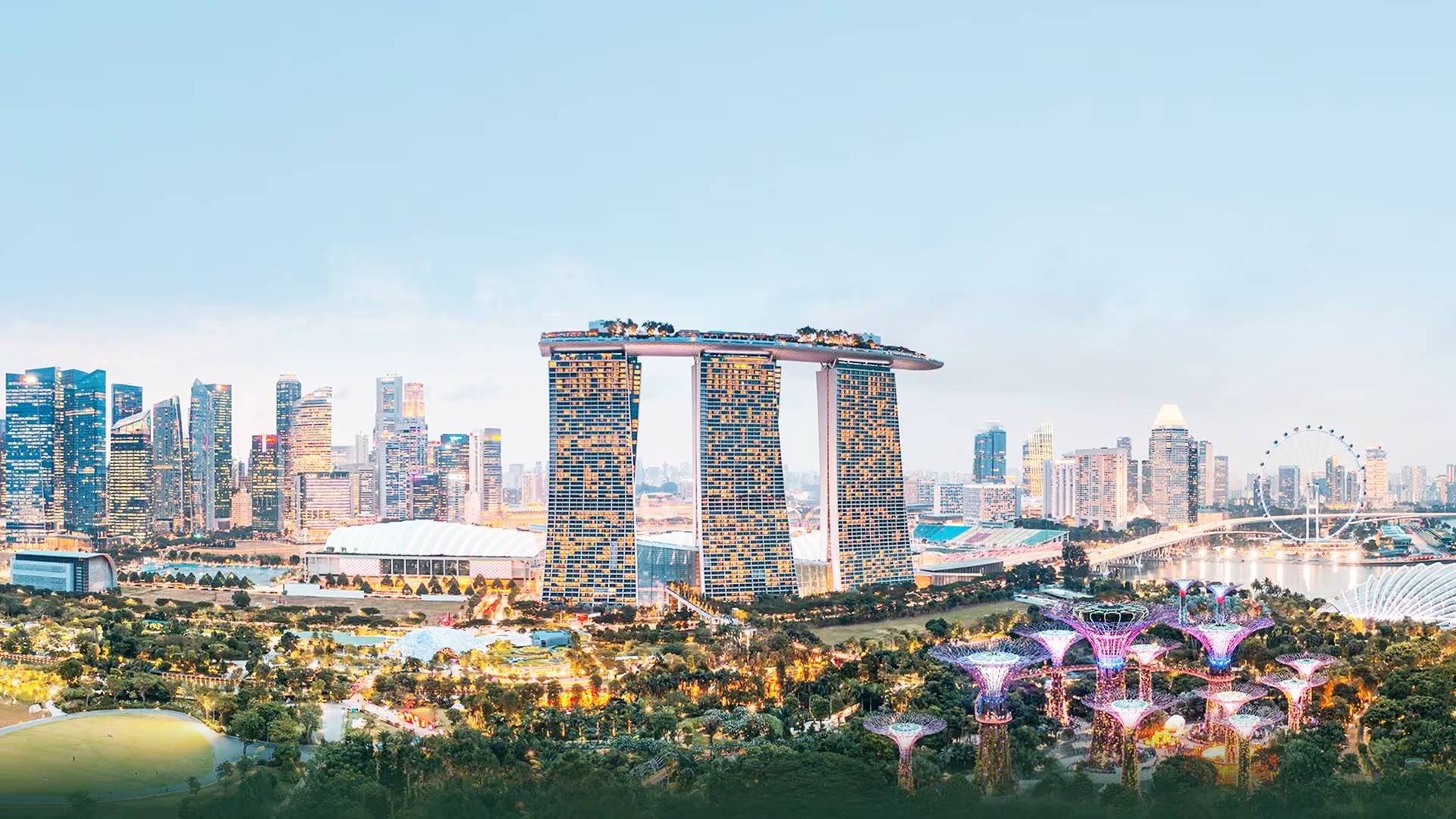 Relocating to Singapore - Foreigners' Guide to Home Renting
Navigate the intricacies of landed property acquisitions in Singapore with our comprehensive guide for foreigners and PRs exploring real estate opportunities.